Coronavirus is generally thought to be a contagious disease that mostly spreads through respiratory droplets. Yet, there is no evidence to support the transmission of COVID-19 associated with food safety. Wash your hands carefully for at least 20 seconds. Although, there may be a chance for a person for contracting the disease by touching the surface. Also, possibly touching their own nose, mouth, and eyes. But this is not the exact way of transferring viruses inside your respiratory system.
However, cooks should be very careful about handling and preparing food. Keep raw meat separate from others, refrigerating the perishable foods. Cook the meat at a suitable temperature unless all germs are killed properly.
COVID-19 has changed a lot of things, but you and your family still have to eat.
Going to the grocery store follow some tips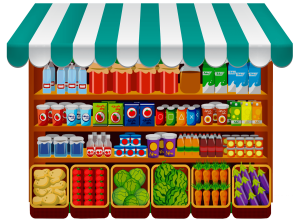 Tip 1: Firstly, check the status of the store. Is it open for shoppers? For pick up or for home delivery only? Also, stores might have special shopping hours for seniors and those with health challenges.
Like supermarket- special shopping hours:
6 a.m- 8 a.m: seniors and high risk
Revised hours: 8 a.m- 8 p.m
Tip 2: If you go, make a shopping list in advance so you don't spend more time in-store than you need to. This will help protect both you and the grocery store staff.
Tip 3: Buy just 1-2 weeks worth of grocery at a time.
Tip 4: Importantly, wear a face-covering mask while you are in the store.
Tip 5: Strictly, observe the six feet rule
Tip 6: Bring your own wipes or use one supplied by the store to wipe down the hands of the shopping cart or basket.
Tip 7: Using reusable shopping bags. Make sure reusable shopping bags are always clean regularly.
Tip 8: Home from the store. Wash those hands right away and after you put away your groceries.
There is no evidence of food or food packaging spreading COVID-19. However, if you wish, you can wipe down your groceries and let them air-dry, as an extra precaution.
Tip 9: Always follow these tips for storing and preparing foods at home.
Clean, separate, cook, and chill.
Tip 10: Rinse fresh fruits and vegetables under running tap water.
Tip 11: Refrigerate and freeze things that can go bad within 2 hours of buying. Also, check the temperature inside.
Tip 12: Wipe down kitchen counters and other high touch surfaces. Often, it includes after you put your groceries away.
Click to view more on best supplements to take during Coronavirus pandemic
Social distancing, disinfecting, and other precautions
Best practices to share with restaurants, food pick-up, and deliver services that cover food safe handling.
How to maintain social distancing in food processing
To prevent the spread of COVID-19, individuals employ social distancing or maintaining approximately 6 feet from others.
Meanwhile, during food production/processing facilities and retail food establishments, an evaluation should be made to identify and implement operational changes that increase employee separation.
The risk of transmitting viruses depends upon the distance between employees.
The duration of exposure and the effectiveness of employee hygiene practices and sanitation is also the play factor.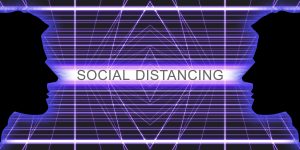 IMPORTANT: Maintaining social distancing in the absence of effective hygiene practices may not prevent the spread of this virus. Food facilities should be vigilant in their hygiene practices, including frequent and proper hand-washing and routine cleaning of all surfaces.
Because the intensity of the COVID-19 outbreak may differ according to geographic location.
How and when should workers in food retail and processing wear gloves during a pandemic?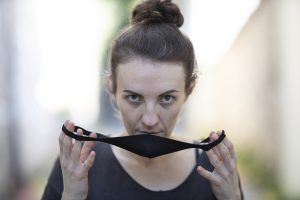 FDA's Food Code gives a recommendation for handwashing and glove use in food services. It awards about safety during food preparation. (Food Code 2017 Section 2-301.11)
With limited expectations, employees may not be exposed, ready-to-eat foods with their bare hands and shall use suitable utensils such as deli tissue, spatulas, tongs, single use-gloves, or dispensing equipment (Food Code 2017 Section 3-301.11). Gloves are not a substitute for hand washing or hand hygiene.
What steps need to take to clean the foods to prevent the spread of COVID-19?
FDA- regulated food manufacturers require to follow Current Good Manufacturing Practices and food safety plans.
Food facilities need to sanitize their products
Check product label guidelines where these disinfectant products are safe and recommended for use in food manufacturing areas.
Food facilities may want to consider a more frequent cleaning schedule.
How to handle self-service food buffets as salad bars in retail settings related to COVID-19?
An extra precaution must be needed to avoid transmission of COVID-19 through surface contact. Frequent washing, and sanitizing all food contact surfaces are necessary. It also includes frequent cleaning and sanitizing counters and condiment containers.
Unlike foodborne gastrointestinal (GI) viruses like norovirus and hepatitis A that often make people ill through contaminated food. SARS-CoV-2, which causes COVID-19, is a virus that causes respiratory illness. Foodborne exposure to this virus is not known to be a route of transmission.
https://www.cdc.gov/foodsafety/newsletter/food-safety-and-Coronavirus.html
https://www.youtube.com/watch?v=3TtHg5XgZzI&feature=emb_title