Baked Salad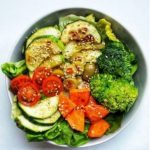 Ingredients
1/2 zucchini cut into slices
1/3 large carrot cut into slices
3/4 cup broccoli pieces
olives
cherry tomatoes
1 cup lettuce
1 st sesame
1/4 tsp garlic powder
1/2 tsp tarragon
pinch salt and pepper
Instructions
1
Preheat the oven to 180 ° C.
2
In a large mixing bowl, toss ingredients together.
3
Coat a baking tray with canola spray to prevent sticking.
4
Add the zucchini, carrot and broccoli mixture to the tray and place in oven.
5
Reduce temperature to 160 C and bake for 15 to 20 minutes.